XVth International Conference "Surface Forces" will take place on May 12-16, 2014 in BEST WESTERN Country Resort Hotel, Verbilki village, about 100 km to North from Moscow, Russia. The travel time from Moscow (Savelovskii Train Station) to Verbilki by local train is about 1h45min-2h.
The meeting will cover a broad range of colloid and surface science from chemistry to physics and engineering with the emphasis on the fundam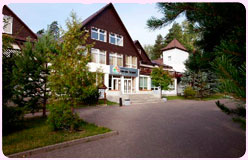 entals of surface forces. This series of meetings was initiated in 1960 by famous Russian scientist academician B.V. Derjaguin.
The Conference program will include keynote lectures, oral presenations, and poster sessions. Social events will comprise a tour of historic sites of Moscow region, welcome reception, a Conference dinner, and optional tours for accompanying persons.